Valeria Tkachenko
Russia
Date of birth: 9th February 1995
Place of birth: Volgograd (RUS)
Sport: Rhythmic Gymnastics
TOPIC ON THE FORUM | FIG PROFILE
March 2011
"I want to become World Champion"
Interview by Elena Sofia Kessler (Foffy-Gym)
Valeria started practicing rhythmic gymnastics at the age of three.
She is the three times European Junior Champion with rope, hoop and the Russian National Team and trains at the Olympic Centre.
Hello Valeriya, thank you for accepting to be interviewed for our website.
When did you start practicing rhytmic gymnastics? How did you get to know this sport?
I started at 3 years old, thanks to my mum.
Who was your first coach? How long have you been training with Irina Viner? Who is your personal coach?
My first coach was Galina Gusichenko in Volgograd. I have been training with Irina Viner for 3 years. My personal coach is Vera Shatalina.
Tell us your typical day in the gym.
I get up at 8 am, I have breakfast and then I start the choreography lesson. The first training session is usually until 2 pm, the second training session is from 4 pm to 6 pm.
Do you have a best friend?
Yes, it's Diana Borisova.
Who is your favourite gymnast?
I don't have a favourite gymnast.
Who do you think is your best rival?
I don't think I have one, first I have to compete against myself.
What is your objective for the future?
I would like to be a star of Hollywood.
Do you have a dream?
To become world champion!
What are your memories about the European Junior Championships 2010 that took place in Bremen? You won three gold medals there, in junior competitions.
Those memories are the best I have, it was a nice moment of my life.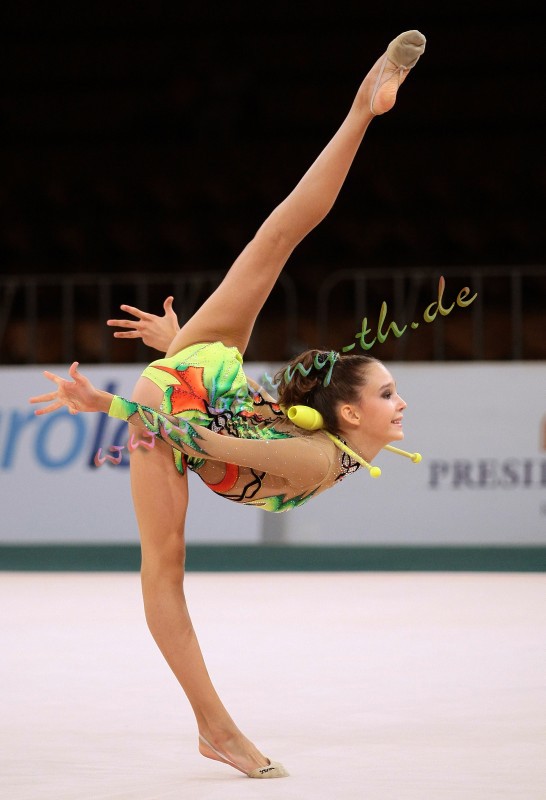 Can you tell us the secret of your talent?
It's personal and secret.
What is your favourite apparatus?
The ball.
Which competition do you bring in your heart?
The European Championships 2010.
What do you think of the Italian Team?
I think it's an elegant team.
What is your favourite food?
Donuts.
And your favourite colours?
Blue and purple.
What about music? Do you have a favourite singer?
Lady Gaga and Justin Bieber, they are particularly striking!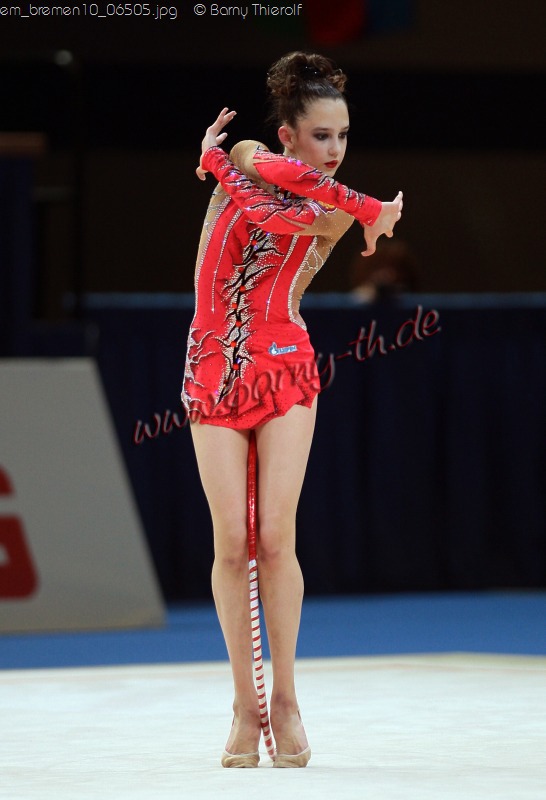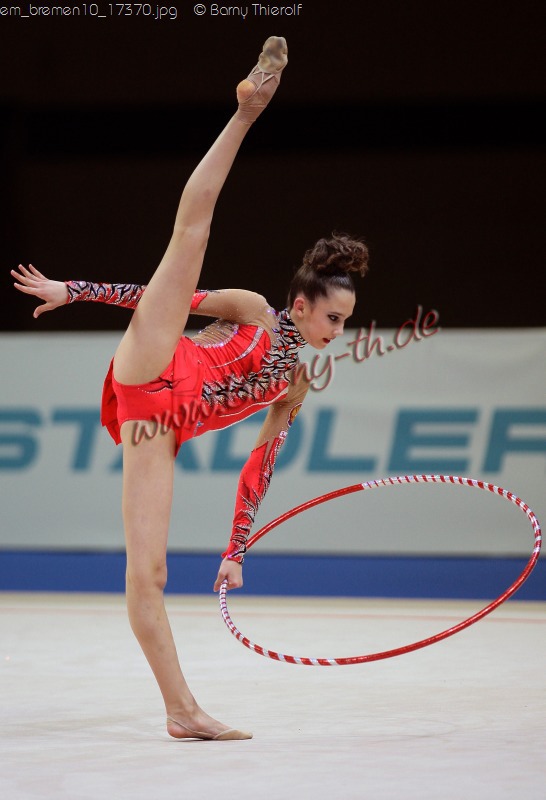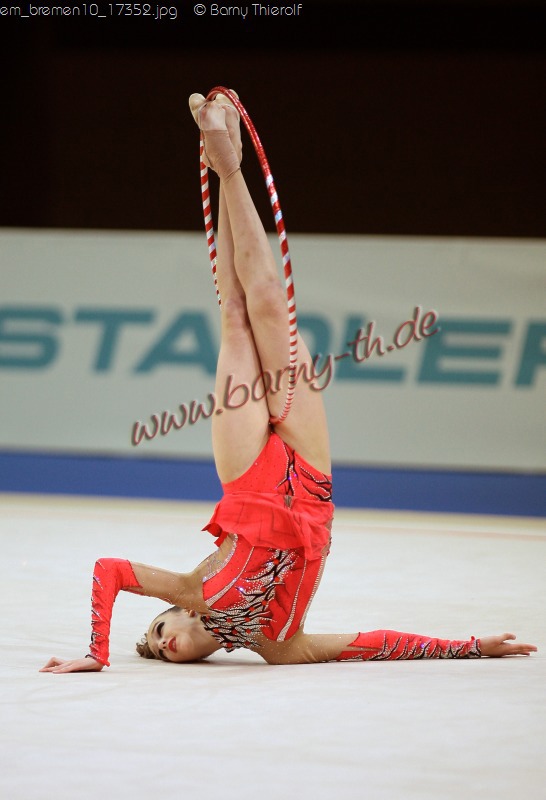 Who is your idol?
Lady Gaga.
Which is your favourite city?
Volgograd, my hometown.
Which country/place would you like to visit?
America, because there everything is like a fairy tale.
What school do you attend? Can you find enough time to study in spite of training?
I do external studies.
Do you like other sports as well to rhythmic gym? What do you think about figure skating?
No, I don't. I think figure skating is a very complicated sport.
What do you do in your free time?
I go shopping and surf the net, I stay much time online.
Do you want to say anything to your fans?
They are the coolest!
Here you will find something about you (news, photos and videos). We hope you like it.
Thanks very much! This is a very cool link.
Marzo 2011
Intervista di Elena Sofia Kessler (Foffy-Gym)
Valeriya inizia a praticare ginnastica all'età di tre anni.
È campionessa europea junior alla fune, al cerchio e con la nazionale russa junior.
Si allena presso il Centro Olimpico.
Ciao Valeriya, grazie per aver accettato di essere intevistata.
Quando hai cominciato a praticare ginnastica ritmica? Chi ti ha fatto conoscere questo sport?
Ho iniziato all'età di 3 anni grazie a mia mamma.
Chi è stata la tua prima allenatrice? Da quanto tempo ti alleni con Irina Viner? Chi è la tua allenatrice personale?
La mia prima allenatrice è stata Galina Gusichenko a Volgograd. Da tre anni mi alleno con la Viner ma la mia allenatrice personale è Vera Shatalina.
Raccontaci la tua giornata-tipo.
Mi sveglio alle 8.00, faccio colazione e poi inizio l'allenamento con la lezione di coreografia. Il primo allenamento è fino alle 14.00 e il secondo va dalle 16.00 alle 18.00.
Chi è la tua migliore amica?
Diana Borisova.
Chi è la tua ginnasta preferita?
Non ho una ginnasta preferita.
Chi pensi sia il tuo migliore rivale?
Per prima cosa devo competere con me stessa.
Qual è il tuo obiettivo per il futuro? Hai un sogno?
Mi piacerebbe diventare una star di Hollywood.
E per quanto riguarda lo sport?
Diventare campionessa del mondo!
Quali sono i tuoi ricordi dei Campionati Europei Juniores che si sono svolti a Brema, ai quali hai vinto tre medaglie d'oro?
I ricordi sono i migliori, è stato un bellissimo momeno della mia vita.
Rivelaci il segreto del tuo talento!
È un segreto! È personale.
Qual è il tuo attrezzo preferito?
La palla.
Quale gara ti è rimasta di più nel cuore?
Il Campionato Europeo Junior 2010.
Cosa ne pensi dell'Italia?
È una squadra molto elegante.
Qual è il tuo cibo preferito?
I Donuts.
Quali sono i tuoi colori preferiti?
Il blu e il viola.
Chi sono i tuoi cantanti preferiti?
Lady Gaga e Justin Bieber, sono particolarmente sorprendenti!
Chi è il tuo idolo?
Lady Gaga.
Qual è la tua città preferita?
Volgograd, la mia città Natale.
Che nazione o continente vorresti visitare?
L'America perché lì tutto è come una fiaba.
Che scuola frequenti? Trovi il tempo di studiare?
Si, faccio dei corsi di studio speciali.
Ti piacciono altri sport oltre alla ginnastica ritmica? Cosa ne pensi del pattinaggio?
No. Credo che il pattinaggio sia uno sport davvero complicato!
Cosa fai nel tempo libero?
Faccio shopping e navigo in Internet, sto molto tempo online.
Vuoi dire qualcosa ai tuoi fan e ammiratori?
Loro sono i più cool, i migliori!
Qui puoi trovare qualcosa su di te (news, foto e video).
Grazie mille! È un link molto carino.